We are a Christian based company out of Victoria, Texas. We offer the finest in workmanship, materials, and originality. Each Banner contains a great deal of Prayer, Preparation, Labor, and Love. There are no assembly lines, each Banner is handmade by a creative and caring individual. Quality materials and workmanship define our Banners. We not only make Banners for churches but we also welcome the opportunity to build you a Banner for your home, school, organization, or any special occasion that meets your needs. We invite you to view our Banner pages and see what the Lord is doing. On the following pages you will see custom made Banners and you will see Banners that are inspired by the Holy Spirit. If you have a need for a customized Banner please contact us and we will work out the details to accomplish your desires. All things are possible.We ask that you respect the Lord, our Customers, and this Ministry and not copy any of these Banners you are about to view.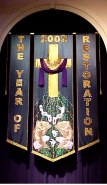 Agape Banners can make a Banner to fit your needs.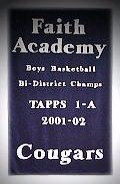 These are just a small example of what you will find at Agape Banners please click the link below and be visit Agape Banners to find the exact banners to fit your needs.